Mother's Day is coming up soon, so we asked our friends at Sprinkle Bakes for help creating a bright, zesty dessert perfect for the holiday and the entire Spring season. Since 2009, Heather Baird's Sprinkle Bakes has curated the most creative and delicious dessert recipes, with cakes that look so good that you almost don't want to eat them! Heather took on the challenge, and the result: A strawberry lemon layer cake combining bright, springy flavors and colors with—of course—Sconza Chocolate Almonds!
It just so happens that Mother's Day coincides with the arrival of our Lemoncello Chocolate Almonds in Costco stores across the country, available through April and May, so we were beyond excited to see a beautiful cake anybody could make that incorporates one of our most popular seasonal products.
Heather's Strawberry Lemon Layer Cake alternates lemon and strawberry sponge cakes between layers of buttercream and crushed chocolate almonds, and tops it off with gorgeous buttercream flowers with Lemoncello Chocolate Almond centers—because you can never go wrong with flowers for Mom!
Let's walk through the steps to make this incredible cake on your own.
Prepare the batter
Making the batter for this Strawberry Lemon Layer Cake is simple. First, start with the same batter Heather uses in her White Almond Sour Cream Cake—boxed white cake mix with added sugar, flour, sour cream, and flavorings for a richer and more exciting taste and texture. You'll find instructions to make this batter in the full recipe below.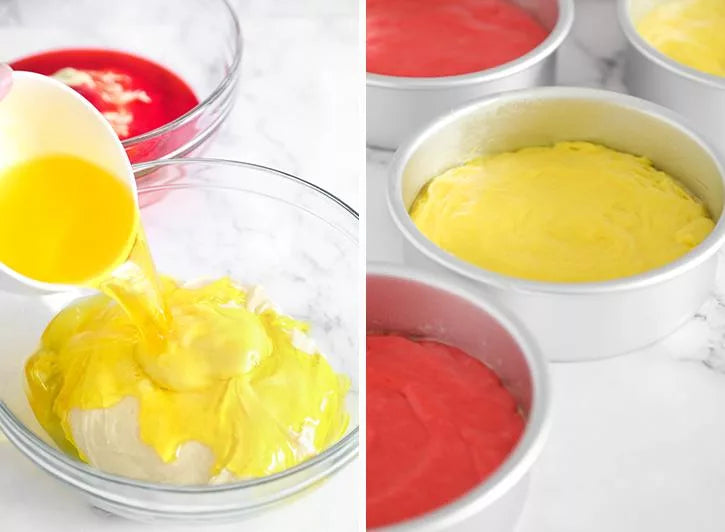 Divide the batter in half and flavor one half with a lemon Jello packet and the other half with strawberry Jello, both dissolved in hot water. Using flavored gelatins gives the cakes not just their bold flavor, but their vibrant color as well! It's also a much more convenient solution than searching your local grocery stores or turning to online vendors for unconventional ingredients like strawberry extract.
Bake the batters in 6-inch cake pans. These smaller pans will give you a cake with a small footprint but a tall and stately figure.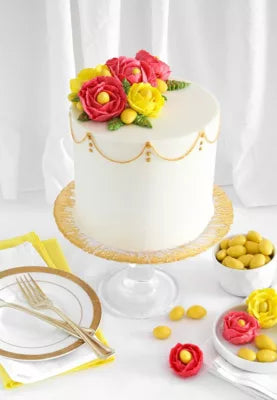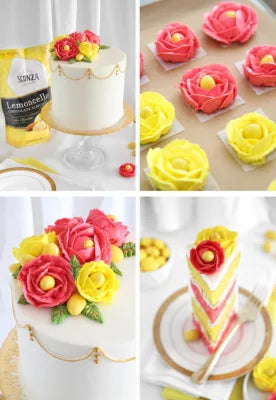 Assemble the cake layers
Start with one of the strawberry cakes to assemble your layers. Top it with an even layer of American buttercream, also known as confectioners' sugar buttercream. This buttercream is rich in fat and sugar, yielding a firm texture and rich flavor perfect for this Strawberry Lemon Layer Cake.
Next, sprinkle crushed Lemoncello Chocolate Almonds over the surface of the buttercream. All you need to crush these almonds fine enough is a food processor.
Next, add a layer of lemon cake and repeat the process with buttercream and crushed almonds.
Continue, alternating between layers of lemon and strawberry, until you've built up your cake.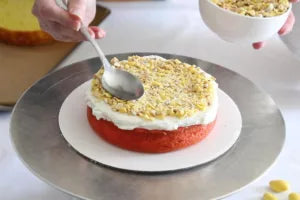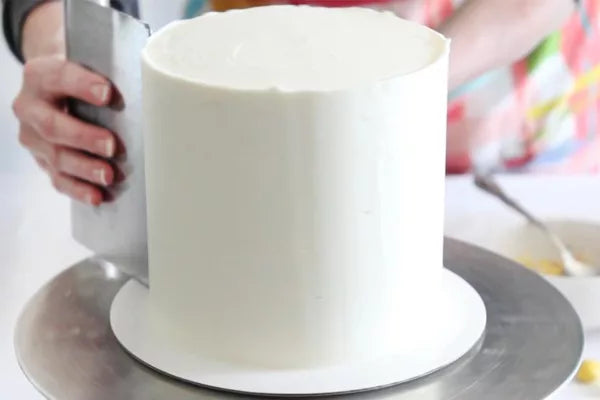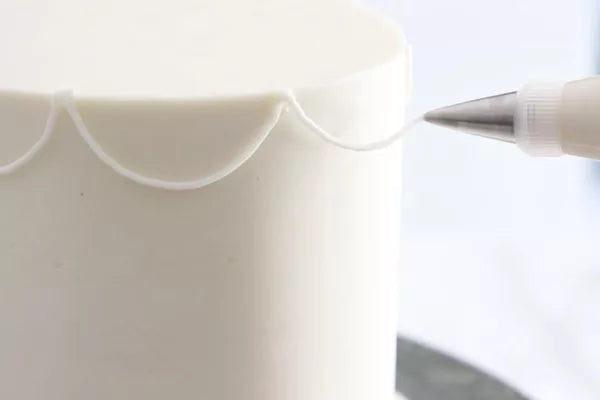 Ice the cake
When it comes to cake decorating, there's no underselling the importance of a crumb coat—a thin layer of icing you apply to your layer cake's surface to hold stray cake pieces and crumbs in place underneath your decorative layer. This is the crucial difference between a cake that is both delicious and beautiful and a cake that is just delicious.
For the crumb coat, cover the top and sides in a thin layer of buttercream and then refrigerate until firm.
Once the crumb coat is firm, it's time for the final coat. Cover your crumb coat in a second, thicker layer of buttercream. Use a bench scraper or cake smoother to get it even. For a fancier look, use a thin decorator piping tip to adorn the top with swags.
Now it's time to get into decoration. Whip up a second batch of stiff American buttercream with a little extra confectioners' sugar to produce a thicker texture that will let your piped decorations hold their shape.
Use gel food coloring to produce the colors you'll need for the decorations, and get your #2 decorator piping tip ready! Piping buttercream roses might sound daunting, but Heather's tutorial makes it a breeze.
Prepare the roses
Sconza candies are a dream come true for food stylists. Each one looks perfect right out of the bag, so you get the maximum amount of pretty decorations per bag. Our chocolate almonds also just so happen to be the ideal shape for flower buds!
Let's get started on our buttercream roses.
First, take a parchment-covered flower nail and pipe a dollop of pink icing onto it. Place the rounded end of one Lemoncello Chocolate Almond into the icing, with the pointed end facing upward.
Then, use your petal decorator tip to pipe layers of pink petals overlapping the candy.
Keep piping on more and more layers of petals until your flower is as full as you like it. Small or large—it's your call.
Slide the flower off of the nail and transfer it to a parchment square on a baking sheet. Repeat the process until you have all the flowers your cake needs, then let them firm up in the fridge.
Once your roses are firmed up from their trip to the fridge, peel them away from their parchment squares and arrange them on top of the cake. With your green buttermilk, pipe a few leaves between the roses to fill in any gaps.
Want to go even fancier? Even lilies (or rather, roses) benefit from a little gilding sometimes. If you've got edible gold paint on hand and gold sugar pearls, use them to brush edible gold paint on the swags you piped earlier along the cake's sides. Add gold sugar pearls where the swags meet for extra class.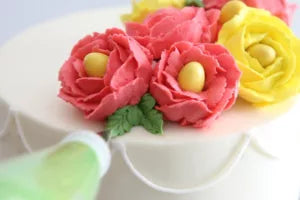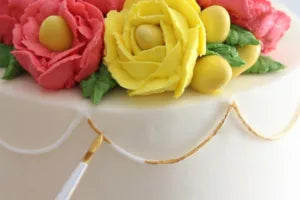 And there you have it—Heather's Strawberry Lemon Layer Cake, a perfect spring dessert to show Mom how much you appreciate her! The strawberry and lemon flavors come through more creamy than tart, and the combination of tender, moist cake and zesty lemon almond crunch is a winner.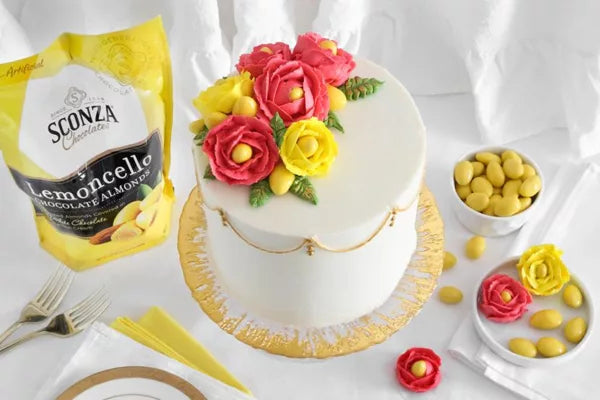 Want to make this cake on your own? Head down to your local Costco and look for our Lemoncello Chocolate Almonds while supplies last! We recommend buying a few more bags than you'll need for this cake—because the temptation to eat them on your own will be too strong to resist.
If you can't find our Lemoncello Chocolate Almonds in stores, don't fret—you can find them online any time of year. These chocolate almonds combine the sweet, nutty flavor of roasted almonds with the rich and buttery taste of white chocolate and the zesty tang of a crunchy lemon cream shell.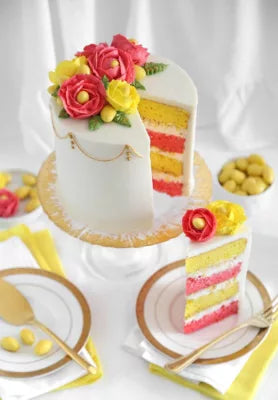 Thanks again, Heather Baird of Sprinkle Bakes, for coming up with this fantastic Mother's Day delight! Read on for the full recipe below: